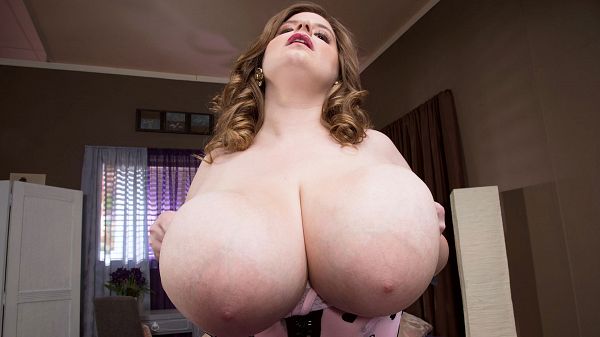 "I've been trying to invite you over for a long time now," Sarah Rae says.
Pardon us, Sarah. We must have missed those calls and texts, but we're here now. And we couldn't be happier to see you again. Sarah looks hotter than ever in her new pink lingerie. It's almost too bad she'll be popping out of it. Almost.
"I wanted to get dressed up all special," Sarah adds. "Just for you."
What a sweetheart. She hasn't even pulled out her tits and she's already given us a hard-on. Speaking of her tits, her JJ-cups look softer and more pliable than ever, too.
We named Sarah's posting "Pretty In Pink," but what's prettiest is when she stuffs her favorite toy into her pink pussy. Ah, if only that dildo were our throbbing hard cocks. Sarah fucks herself hard, and the bed is shaking as if someone else were rolling around in the sheets with her.
"Oh, you like watching me fuck my pussy?" she shouts.
We can't get enough of it. Sarah continues fucking herself and begins sucking her right nipple as she bounces on the bed. The noise of the bed shaking grows louder as she inches closer and closer to her climax.
"Fuck, that felt so good," Sarah says as she comes down from her high.
And it looked even better.