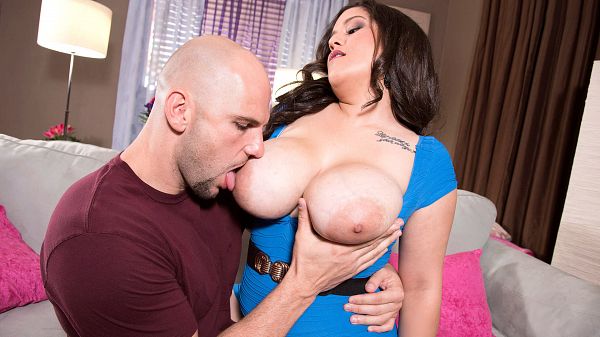 From behind a seated Chloe Rose, JMac takes handfuls of her heavy, ripe-'n'-ready big boobs encased in her brassiere and plays the jiggly-jiggly game with them. Chloe tells him they're 38E. Reaching down, he rubs Chloe's panty-covered pussy while his other hand still palms her left breast. Holding her bra straps, he continues his boob-quake play, then takes each impressive breast out of the cups. This Texas cutie has glorious breasts.
Chloe's tits are patted and rubbed in close-up. Her hand is guided to his bulge so she can squeeze it while she's boob-handled. Removing his hands, he instructs Chloe to bounce her bodacious baps because everyone loves boobs in motion.
Chloe is asked if she wants his boner between her boobs. She does, indeed. He takes his cock out of his pants and Chloe opens her mouth to take it in and suck it. This may be her first time on-camera giving a guy a blow job but from what she's doing to his stiffening tool, Chloe's special talent is more than dancing. "I had a threesome with my best friend on her wedding night," Chloe said, proving that there's a lot more to some girls-next-door than we might guess. "I like girls but I like men better."
Chloe alternates between sucking and tit-banging her new fuck friend as she comes around the couch to rest her breasts on the cushions. JMac vaults over the couch and, ever the gentleman, gives Chloe a place to sit: his pole. The sexy brunette climbs on board facing him for a penetrative party and rides his baloney pony like the Texas cowgirl she is.