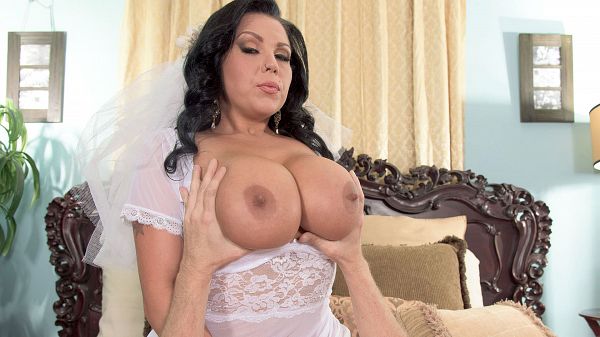 This is the night Sheridan Love will straighten you out right. Sheridan's tonight's bride, and she's waiting for a hot ride on this night of naughty nuptials. Dressed in wedding white, Sheridan's pussy is tight. Those horny hooters are a sight that inspires a poet to write. She'll ignite you, excite you and delight you as you make boom-boom in your honeymoon room.
A guy couldn't have a cuter, sexier bride under him and over him. Eager to suck and fuck you just right, Sheridan teases you and eye-bangs you first. She lowers her wedding gown to give you full access to her big, hot tits.
Sheridan spreads her legs wide so you can pull aside her panties and finger her pink, smooth cookie. "Let me get on my knees," an elated Sheridan whispers, taking your chubby in her sweet hand. "And do my wifely duties."
It's a nice day for a Love wedding.