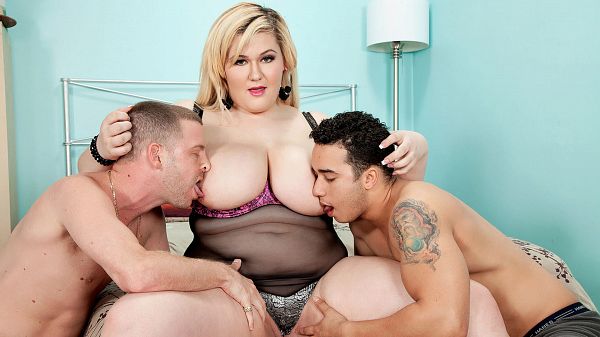 XL Girls hottie Skye Sinn has a big appetite for life and a big lust for cock. Skye doubled her pleasure with two guys. They are here to serve Miss Sinn a double-feature fuck.
Skye's X-Men work over the huge, huge tits that look ready to pop out of her purple and black lacy brassiere. A knock-out sight in her skyscraper heels, Skye towers over these two dudes. She's got that Amazonian thing going. It'll be an adventure in climbing to new heights.
Skye gives Rocky a nipple-sandwich while Tony sticks his fingers past her pussy lips and digitizes her pinkhole. The sensations of Rocky's tongue licking her nipples excites Skye and the same thrill-ride is happening down below.
Skye drops to her knees on the floor and takes both dicks in hand. She sucks and pulls on each one, then gets on the bed, both guys at her sides. She keeps jerking them as Rocky finger-bangs her hard.
Now, who's gonna be first to fill Skye's lovely lady-box? The question is answered when Skye gets on her knees to blow Tony, giving Rocky the chance to come around and fuck Skye from behind.