Introducing a new huge-titted wife named Billie Jean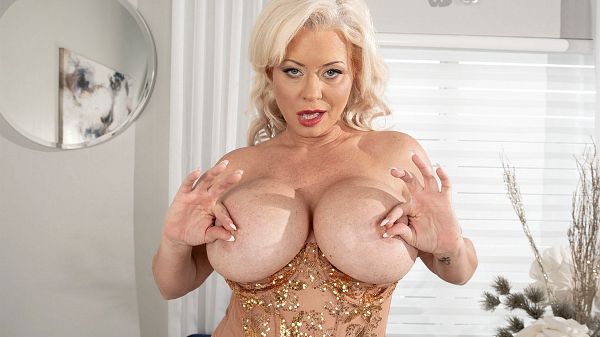 Billie Jean Austin, a 48-year-old wife, has big tits. Really big tits. So big that when the editor of SCORELAND saw her, he said, "I want her!" Well, he'll have his turn, but first you get to admire Mrs. Austin's big, round, juicy FFF-cups (that makes her an H-cupper) and jack off as she plays with her pussy.
Billie Jean was born in South Carolina and now lives in San Antonio, Texas, and you're going to remember her body for a long time. Not surprisingly, she used to be a stripper ("exotic dancer" is the phrase she used). She's also been a medical assistant. And she says the people she knows would not be at all surprised to see her here.
She told us, "I don't care for TV shows, but I love movies. I watch some football, mostly the Dallas Cowboys. I'm into hot yoga and I love to go to the gym. And when I wear panties, it's a G-string or nothing at all."
Favorite day: "A great lunch on a patio and a glass of wine."
How she dresses when she goes out: "Sexy, tight dresses, jeans and form-fitting clothes. It depends on my mood."
We're in the mood for more of Billie Jean.